Moreton Island is the third largest sand island in the world, located on the eastern side of Moreton Bay, on the coast of south-east Queensland, Australia. Moreton Island lies 58 kilometres northeast of the Queensland capital, Brisbane. The island is 95% National Park and a popular destination for day trippers, four wheel driving, camping, recreational angling and whale watching and just a 75 minute ferry ride from Brisbane. Together with Fraser Island, Moreton Island forms the largest sand structure in the world.
TANGALOOMA DOLPHIN ADVENTURE TOUR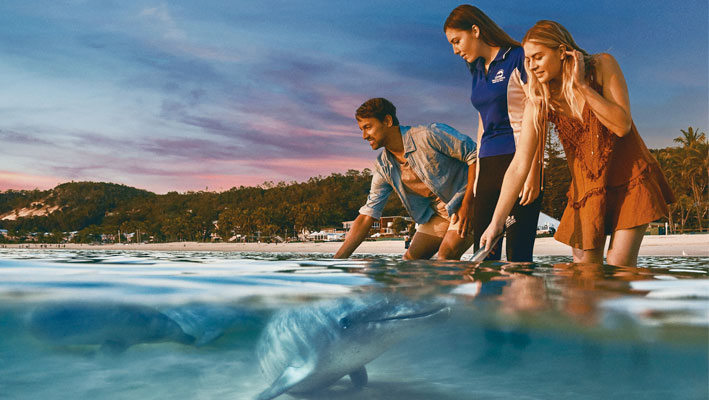 A magic day out, discover this tropical island paradise only 75 minutes from Brisbane. A winning combination of crystal clear waters, white sandy beaches and untouched national park; Tangalooma on Moreton Island is a pristine wonderland waiting to be explored. You will delight as wild dolphins swim into shore at dusk for hand feeding. It is an unforgettable thrill.
TANGALOOMA DAY CRUISE WITH LUNCH
Why not escape for the day? Take advantage of a relaxing 75-minute cruise across glistening Moreton Bay to spend a few hours soaking up the tropical lifestyle at Tangalooma Island Resort. Spend the day on the world's third largest sand island where there are many FREE activities offered (watersports incur a fee). Try archery, boules, tennis or swim in the beautiful waters of the bay. Choose from two swimming pools.
TANGALOOMA WHALE WATCHING TOUR
Marvel at the annual migration each June to October of humpback whales as they journey some 16,000 kilometres from Antarctica along the east coast of Australia. These acrobats of the ocean pass by Moreton Island, often with their newborn calves, creating one of the greatest spectacles of the sea. Your Whale Watch crew will explain the habits and characteristics of migrating whales and serve a light, delicious lunch on board.